[ Farmer wants a Wife ] [ Sim Challenge ] [ The Library ] [ 150 Main Street ] [ Sims 2 stories ] [ Info ] [ Clothes ] [ Walls ] [ Floors ] [ Neighbourhood Terrains ] [ Mega Hood ] [ Houses ] [ Community ] [ Dormitories ] [ Apartments ] [ Oddness ] [ Single Sims ] [ Families ] [ Archiving ]
Monty Mansions
You will need Apartment Life, Free Time and Nightlife at least to make these houses work. I have most of the Stuff Packs as well; I THINK the windows came with AL so you should be all right - some of the kitchen items may well be from the Kitchen and Bathroom Stuff Pack so may not show up for you if you don't have this.
This pair of semi-detached three-bedroom houses are fairly typical of UK housing in the working-class middle-income bracket.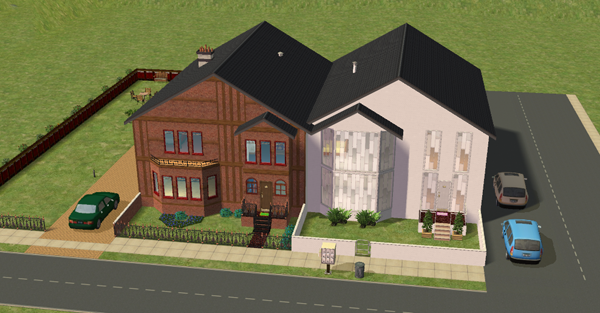 I tried to make them have separate gardens but it seems AL will only accept ONE external door, so the gardens are actually open to all residents... but they appear to be separate.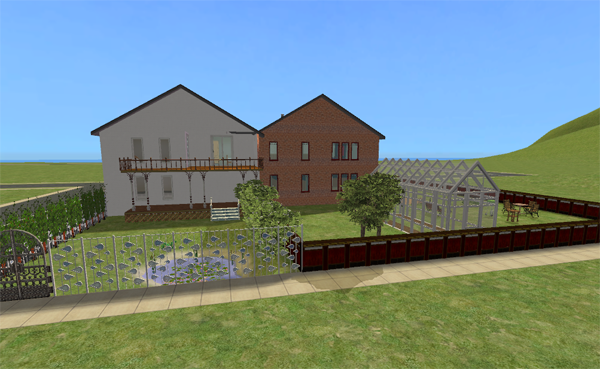 As you can see, one house is in the original brick finish in a mock-Tudor style. The other house is done up in real modern Eighties pebbledash finish and post-modern windows. There is plenty of car parking as the white house has a road running right next to it, and the brick house has its own driveway.
Your Sims can rent these houses for §4,814 to §4,932. This would work for a family with two adults working in reasonable careers, or maybe a Sim further up his career path and his family; a roomie could defray some of the expense. Of course the three bedrooms don't have to be bedrooms: there is plenty of space for musical instruments or a craft room I want to try them for three young Sims just starting out.
---