[ St Isidore ] [ Otter Spire ] [ Spacemen's Park ] [ Weiss Offices ]
Robert Tyndale
Made with all Expansions to Seasons and will need at least Open For Business and Seasons installed to work properly in your game.
Robert Tyndale is newly ordained and priest-in-charge of Saint Isidore's Cathedral, since its recent refurbishment. He and the Cathedral are made with EA-only content; but please read the NOTES below.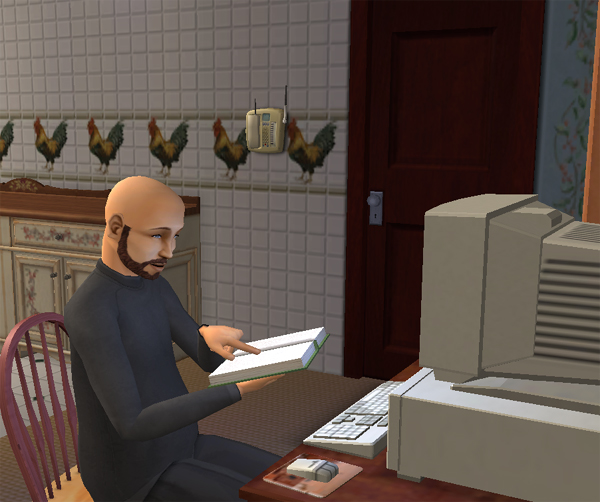 Made in a completely empty Hood, he has had no contact with any other Sim and should be perfectly safe to install in your game, together with his home. In fact he is in complete seclusion in his flat, preparing for a sermon... the flat is tucked away upstairs in the Cathedral.
Pews, altar, lamps and flowers have not been delivered yet, but there is a visitors' toilet.
There is a donation box at the front door of the church for visitors to make a contribution.
The Cathedral can be seen or downloaded uninhabited as a Community Lot here.
PLEASE NOTE: To make the conversion work you have to have downloaded and installed the the collection from Sim A Little Dream A Lot, which gives you a buyable mailbox and trashcan; these are VITAL to make the building actually playable. They should already be in place in the Lot IF you have installed them.
SECOND NOTE: on first playing this Lot you will get an error message from the "donation box" because as it stands your game thinks there is no business established on this Lot.
Delete the "donation box" near the front door. Unlock the doors, take Robert to the telephone and choose Start Home Business. Then you can install a new donation box and set the donations to whatever you think the neighbourhood will stand.
Download the Lot complete with Robert Tyndale
Disclaimer: The Cathedral of Saint Isidore and Robert Tyndale are completely fictional: any resemblance to any building, in this or any virtual world, or any person living, dead or Sim in your game, is totally coincidental.
---