Barrington House Apartments
I don't usually like brutalist architecture, but this recent design by Fred Barrington in London is lifted by the use of the coloured balcony rail glass.
I made the coloured fences with help from Celebkiriedhel of Neighbourhood 99 forum, and of course SimPE. You can download the fences here. Otherwise the game will substitute plain fences. Otherwise there is no Custom Content in this lot.
This house was made with all EPs and SPs installed. It obviously need Apartment Life and University for the fences to work and Ikea SP for some of the furniture). I believe it will still work but some items may be changed.
There are staircases and lifts to all floors but no roof access, and no basement.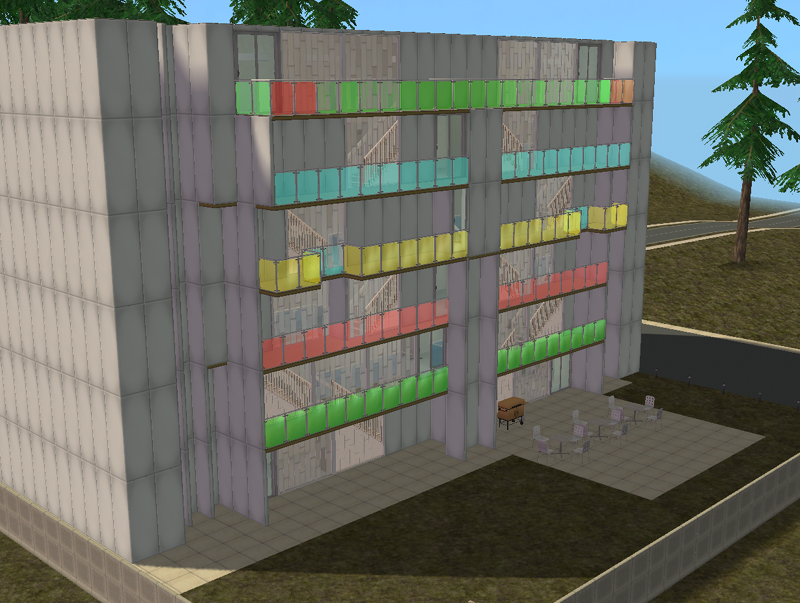 The apartments let in-game for §1,717 to §2,963 and are very minimally furnished. It's decorated throughout in Landlord's White. The apartments have one or two bedrooms, and each has its own very small bathroom. There is also a communal bathroom, sauna, communal sitting rooms and a large communal kitchen to encourage the apartment dwellers to mingle.
Barbecue area out back, and there is a large parking area.
---
Sita February 21, 2016